Pediatricians in Corinth, MS
We care for your child like our own!
At Magnolia Regional Health Center, your child's health is our top priority.  Our team of knowledgeable and caring pediatricians strive to keep your child healthy and active, all in a family-centered environment. We value the relationships we build with families, and we want to help you raise happy and healthy children.
Pediatricians with our Magnolia Pediatric Clinic provide the full range of outpatient primary care services to infants, children, and adolescents throughout Corinth, Alcorn County, and the region.
We understand that pediatric care means more than treating a sick child. To us, it means providing answers and guidance throughout your child's growth. That's why we strive to build lasting, long-term relationships with parents so they can raise safe, healthy kids. Magnolia is a teaching facility, so our pediatricians are committed to teaching both medical professionals and families. Our team will take the time to provide you with the information you need to make treatment decisions and better understand your child's medical condition.
Learn more about Magnolia Pediatric Clinic
All Pediatric Providers
Health and Development
Our goal is to keep your child healthy and active, now and in the future. Our comprehensive pediatric services include:
Acute Illness Care (Flu, Strep, etc.)
Health Screening and Disease Prevention
Why Choose Our Pediatric Clinic?
Convenience and Comfort
Our pediatric clinic provides convenient access to meet the needs of parents throughout the area. Outfitted with zoo and ocean themed patient rooms and waiting areas, our clinic is sure to provide a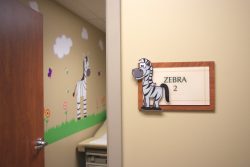 comfortable experience for parents and children, with dedicated play areas for young patients and siblings.
Primary Care and More
Our team is equipped to treat more complex chronic conditions and can help manage them over the long term. We aim to provide a comprehensive array of inpatient and outpatient services for children with chronic conditions.
Referrals to specialty and tertiary care services are also available for children with complex medical needs. If your child's chronic condition cannot be diagnosed and treated at our facility, our pediatricians can connect you with knowledgeable and experienced providers who can provide your child with the care they need to find a solution to their health condition.
About Our Inpatient Pediatric Unit
Our Pediatric Unit houses a 19-bed unit with all private rooms with choices of crib, isolette or hospital bed. The rooms have flat-screen televisions, communication boards, availability of continuous DVD viewing on three channels, pull-out sleeper chairs and an in-room shower. Parent trays are offered as a service to the parent and can be ordered from a dietary service just as the child's tray is ordered. The pediatric unit has a microwave oven, coffee maker and refrigerator as an added convenience. The unit is cell phone-friendly area and wifi capability is available. There is a family resource waiting area and a playroom with a large flat-screen TV. The ability to keep in touch with friends and family through CaringBridge.org is also available.
Patient Safety and Security
The unit is under surveillance using security cameras, coded entrances and a limited access area. We offer sleep space for a parent, guardian or parent designee that is 18 or older. Adult presence is required at all times throughout the stay by either a parent, guardian or parent designee over the age of 18. Pediatric staff members are clearly identified by their ID badge which indicates name, title, and department next to his or her photo.
Educational Resources
Outside of providing you with exceptional care, we believe equipping you with the knowledge and resources you need to raise your child is just as beneficial.